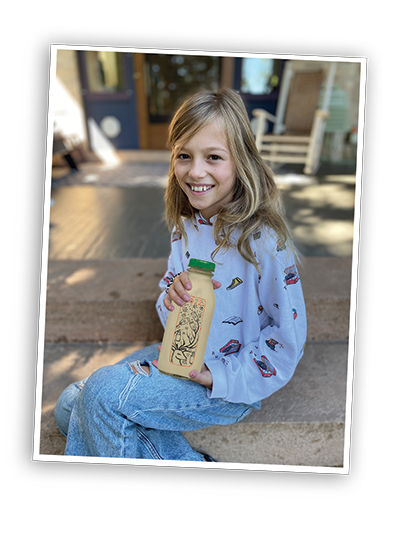 Congratulations to our 2022 Eggnog Bottle Holiday Design Contest Winner, Vivi Roetter!
Vivi is from Boulder and a fifth grade student at High Peaks Elementary. Her favorite subject is science and she wants to be a rock climber when she grows up.

She has liked art as long as she can remember, has attended Sunflower Art Studio, and takes a weekly art class. Other interests include bouldering and reading.

With her family, Vivi enjoys traveling to Mexico and Italy. She has a younger brother and a pet Shih Tzu named Mucca (which means cow in Italian).

Chocolate Milk is a Longmont Dairy favorite. She has never entered the Eggnog Bottle Design Contest, though her mother has been encouraging her to for years. Great job, Vivi, and thanks for your radiant reindeer design!