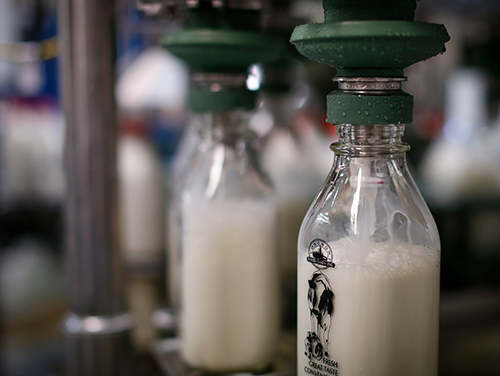 Contact Information:
Monday through Thursday: 8:00 a.m. to 5:00 p.m.
Friday: 8:00 a.m. to 12:00 p.m.
Online ordering cut-off, for next day delivery, will end at 5 p.m. Sunday through Thursday.
Phone Support: 303-776-8466.
Postal Address: P.O. Box 998, Longmont, CO 80502
Physical Address: 920 Coffman St, Longmont, CO 80501
If you have a problem, we will fix it as soon as possible.
At Longmont Dairy Farm, your milk is guaranteed to the last drop!
Billing:
You may elect to receive your bill by e-statement or paper copy. The bill will cover your deliveries for the previous month. Payments will be made automatically, through an automatic debit to your bank account or credit card the Friday after their first delivery then around the 10th of the month (may vary some months depending on holidays and weekends). Effective May 1, 2014, any customers that have a returned check or insufficient funds from their bank account will incur an additional $20 fee from Longmont Dairy.  All new customers are required to sign up through autopay.
Payment information can be submitted by downloading the form below and returning via mail to:
Longmont Dairy Farm
P.O. Box 998
Longmont, CO 80502-0998
DOWNLOAD PAYMENT AUTHORIZATION FORM
Guarantee: Our milk and products are guaranteed. We stand by our products and want you to have a delicious, quality experience with them. If you have any concerns, no matter how small, please call us. We want to make it right. At Longmont Dairy Farm, your milk is guaranteed to the last drop!
Quantity Discounts Available on Milk:
Five cents discount per half gallon of milk on the purchase of twenty or more half gallons of milk per month (if there is no previous balance).
Minimum Standing Order:
Weekly minimum delivery – 3 items. Delivery fee $2.15 per delivery.
Delivery Schedule:
We deliver once each week. Your sales representative or the office will let you know what your delivery day is, when you place your first order. By the way, we do deliver on holidays at your regularly scheduled time.
Milk Boxes:
We supply a porch cooler for your use while you are a customer. Please leave your cooler in the same place so it is readily visible to the driver.
Glass Bottles:
Please rinse your empty bottles and leave them in the porch box for pick up each week. No deposits are due on the bottles as long as they are returned. The bottles are made of heavy glass and can break, so please use caution in handling them.