Local Recognition in "Raised in the Rockies"
In a heartwarming display of community engagement and sustainable initiatives, Longmont Dairy has been featured in the latest issue of "Raised in the Rockies" magazine for our exciting "Milk Caps for Mooola" program. Hold onto your hats (or caps) because this is a story you won't want to miss!

Longmont Dairy's "Milk Caps for Mooola" program is making waves! We're talking about turning those milk bottle caps into some serious school funds, all while having a blast and giving back to our community. The spotlight in "Raised in the Rockies" magazine shines on the growing recognition and appreciation for the program. Known for celebrating the best of local living in the Rocky Mountain region, the magazine recognizes our unwavering commitment to creating a positive impact on both the environment and our community.

Now, that satisfying gulp of cold, fresh milk from Longmont Dairy isn't just delicious; it's an opportunity to take action and give back to our community. The "Milk Caps for Mooola" program gives these little bottle caps, which would usually end up discarded, a chance to shine by transforming them into funds for our local schools. From colorful collection bins in the cafeteria to exciting announcements about how their efforts are making a real difference, this program is a school-wide adventure.

We want to express our immense gratitude to Gary Schlagel, our dedicated Community Service Director, for his outstanding leadership and tireless efforts in running the "Milk Caps for Mooola" program. We also want to give a huge shoutout and heartfelt thanks to our incredible local schools for wholeheartedly embracing and championing the "Milk Caps for Mooola" program. Your enthusiasm and dedication to making a difference in the lives of our students and community are truly commendable. And to the young superstars out there tirelessly collecting those bottle caps, your efforts are nothing short of amazing! Your energy and determination are inspiring us all to create a brighter, more sustainable future, one cap at a time. Keep up the fantastic work!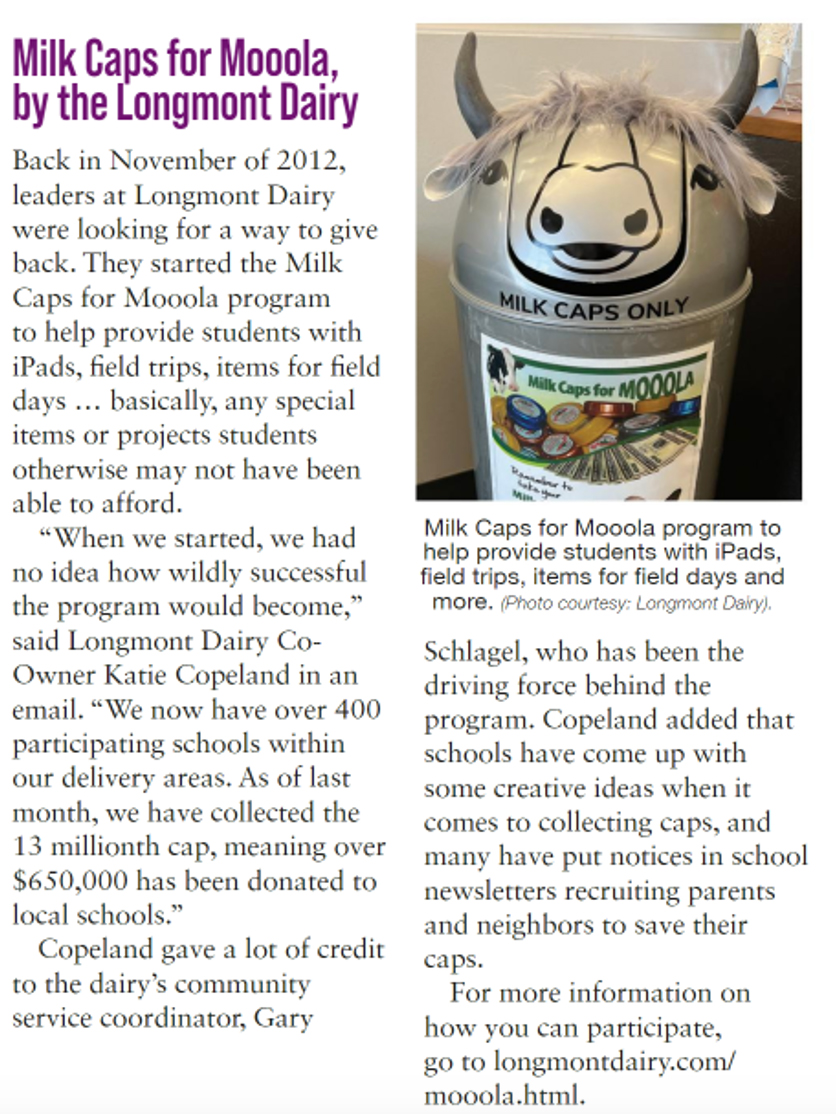 https://issuu.com/prairie-mountain-media/docs/raisedintherockies-backtoschool-2023?fr=xKAE9_zU1NQ