Tillamook Cheese
As a local company, Longmont Dairy places immense importance on sourcing the finest ingredients and crafting products that resonate with our community. Similarly, Tillamook, a renowned Pacific Northwest cheese brand, boasts a legacy of excellence and dedication to producing exceptional cheeses for over a century. We are proud to partner with Tillamook because each block of their cheese reflects a long-standing tradition of passion for perfection, handcrafted with utmost care and expertise and sourced from the finest local Oregon milk.

Immerse yourself in the rich dairy heritage of the Pacific Northwest as you savor the exceptional flavors and quality that only Tillamook can deliver. From the bold and sharp Tillamook Extra Sharp Cheddar to the smooth and creamy Tillamook Colby Jack, each cheese caters to a spectrum of tastes, making them the perfect centerpiece for any culinary creation. Whether grating over a steaming plate of pasta, melting into a gooey grilled cheese sandwich, or savoring on its own, Tillamook cheese elevates any dish to new heights of deliciousness.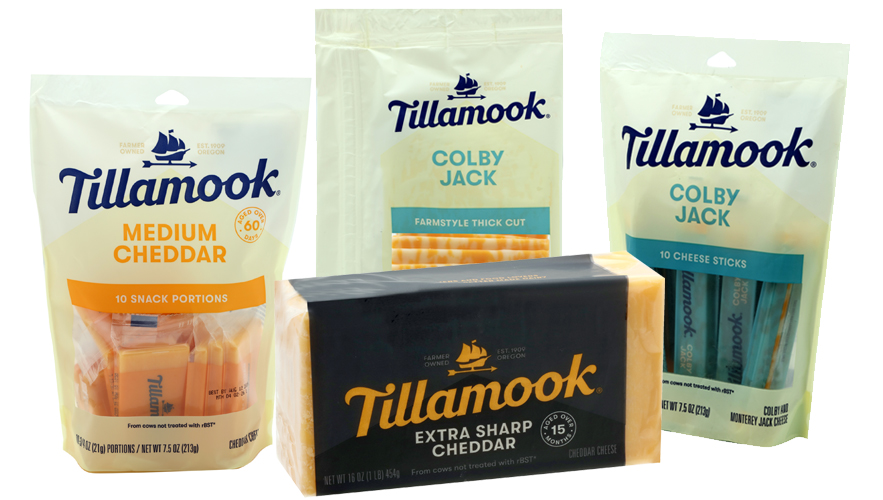 Cottage Cheese
When we think of Cottage Cheese, we think of Daisy! Recognized nationwide for its commitment to quality and freshness across its range of dairy products, Daisy Cottage Cheese stands out. With its creamy texture and high protein content, cottage cheese becomes a nutritious option for health-conscious consumers. Made from whole milk, Daisy Cottage Cheese is conveniently available in a 24 oz. container. Whether enjoyed with fruits or incorporated into casseroles, the versatile cottage cheese is sure to please every member of your family.
Cream Cheese
Evolving over time, Philadelphia Cream Cheese has become a beloved household name, renowned for its authentic flavor and versatility, making it an essential ingredient for both traditional and modern kitchens. Crafted from farm-fresh milk and real cream, carefully selected fresh fruits, and free from artificial preservatives, dyes, or flavors, Philadelphia Cream Cheese represents an exquisite commitment to uncompromised quality. Available in Plain, Strawberry, and Garden Vegetable.