Milk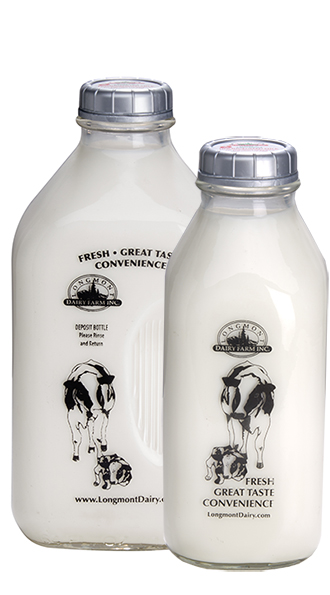 As proud owners of both our cows and manufacturing plant, we guarantee the utmost quality in our milk products for your family. Our commitment to excellence is evident in every step of production and service. Our vigilant care and monitoring of our cows ensures their well-being and health. Our livestock thrives without the use of any supplemental growth hormones (BGH). With daily milking, we swiftly deliver the freshest milk to your doorstep each morning. Experience the prolonged freshness and enhanced flavor of our milk, offered in convenient 1/2 gallon and quart sizes. Choose from a range of options, including Whole, Reduced Fat, Low Fat, and Skim varieties.
Chocolate Milk
Our standards for velvety goodness become obvious the first time you taste our Chocolate Milk. Try some today and see why kids beg for a glass for dessert, and why teens don't have to be convinced to make it their energy drink of choice. Our Chocolate Milk is an excellent sports recovery drink, providing a delicious and nourishing option to replenish after physical activities. Some say our chocolate milk should come with a warning—you can't order it just one time!
Strawberry Milk
Our delicious Strawberry Milk is made with Longmont Dairy 2% milk, natural ingredients, and no red coloring. It tastes like fresh strawberries and cream in a bottle and is refreshing until the last drop. Whether you're enjoying a pause in your busy day or looking for a delightful treat, our Strawberry Milk offers a wonderful and satisfying experience that goes beyond just refreshing.
Vanilla Mint Milk
Try our Vanilla Mint Milk! Made from Longmont Dairy 2% milk, it is rich and creamy with just the right combination of sweetness and fresh flavors. Indulge in this unique and satisfying treat that will captivate your senses and leave you craving more. Available February through April.
Root Beer Milk
Like a Root Beer Float without the bubbles Root Beer Milk is silky and delightful. It makes a nutritious, summertime dessert or snack. Made with natural ingredients, it's lower in added sugar than sodas, has no corn syrup, is caffeine free, and is made with fresh Longmont Dairy 2% milk. Available May through July.
Orange Cream Milk
Creamy and delicious… just like an orange creamsicle in a bottle! Crafted with Longmont Dairy 2% milk and natural ingredients, this treat provides both nourishment and indulgence, making it a perfect dessert or snack. Available August through October.
Pro-to-Go
Experience the power of Pro-to-Go protein-fortified milk, infusing 14 grams of protein into every delightful 8 oz. glass. Whether you opt for a convenient meal replacement or a potent protein boost, this versatile option caters to busy adults, active teens, and growing children alike. With its velvety texture and no chalkiness, Pro-to-Go stands as a creamy indulgence crafted from wholesome ingredients, including the goodness of Longmont Dairy Milk. Available in Vanilla and Chocolate. Read more on the benefits of Protein here.

Because we own our own cows and plant, we can ensure the highest quality milk products for your family. Our standards for production and service are the highest available. Our cows are carefully fed and monitored to ensure their health. Our livestock are robust and we don't use any supplemental growth hormones (BGH). We milk every day and deliver it directly to you the next morning. Our milk lasts longer and tastes better. Available in 1/2 gallon and quart sizes. Whole, Reduced Fat, Low Fat and Skim.