Colorado Cold Brew ™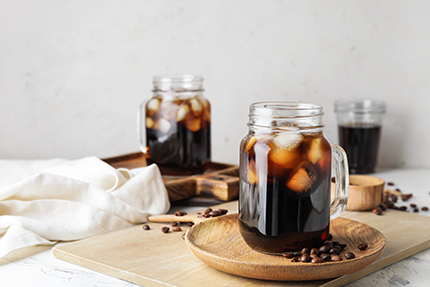 We're all about fresh! We use fresh roasted and ground coffee, and pure Rocky Mountain water for our Colorado Cold Brew ™ Coffee. It's a slow process to let the beans cold brew for 24 hours or more, and it requires twice the amount of ground coffee than hot brewed coffee needs. But on a hot day, the taste is cool, smooth and rich, with roasted nuts and notes of cocoa, in a medium body blend.
No one knows more about milk and cream than Longmont Dairy. So you can count on our Colorado Cold Brew with milk drinks to be made with perfection.
Try our New Orleans Latte Cold Brew, New Orleans Chicory blend influenced by the French since the early 1800's.
Mocha Latte Cold Brew, the perfect balance of coffee, cocoa, milk and sugar.
French Vanilla Latte Cold Brew, LDF milk Colorado Cold brew and natural vanilla with sugar.
Bhakti Chai
Made fresh with organic fresh-pressed ginger and a blend of full-flavored herbs and spices, Bhakti Chai Tea Concentrate is a delicious beverage mix that's the perfect blend of sweet and spicy. And it isn't just for tea lovers; use it as an added ingredient to make rich desserts and savory meals.

Bhakti Chai Concentrate is made with all natural, low fat, certified organic, non-GMO ingredients that are free of preservatives and gluten, so it's good it's for you, too!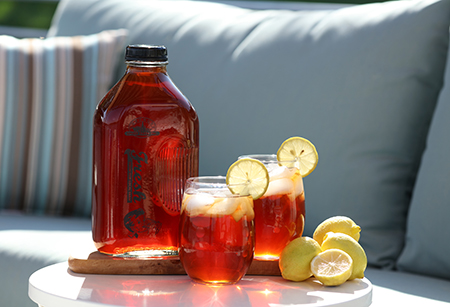 Fresh Brewed Tea
Our Farm Kitchen Fresh Brewed Black Tea is slow steeped and imported by Silver Canyon Coffee right in our plant. The tea features a traditional flavor and is sourced from the Iyerpadi Estate in India.

We hand craft small batches of black tea in pure, Rocky Mountain water, and make it a little stronger, to help it hold up to ice or milk. The taste has medium body that's crisp and malty, with a hint of natural sweetness.

Delivered in half gallon, glass bottles.

Lemonade & Tea
Fresh brewed black tea and our lemonade which is 20% lower in sugar. We brew from May through September.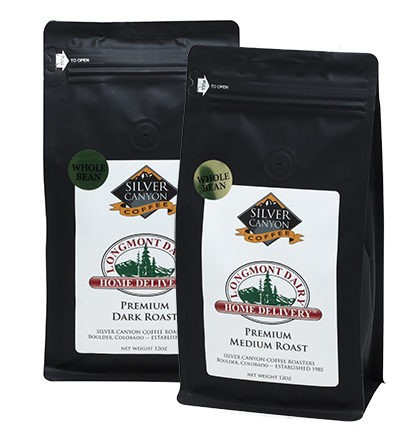 Silver Canyon Coffee
Silver Canyon Coffee has developed three roasts created exclusively for Longmont Dairy.

Premium Medium Roast and Dark Roast, smooth, rich coffee roasted weekly, available in pre-ground or whole bean, 12 oz. bags.

Winter's Companion™ – a Medium Dark Roast by Silver Canyon Coffee in pre-ground, 12 oz. bags. (Seasonal Nov - Dec)

Harvest Pumpkin – by Silver Canyon Coffee in pre-ground, 12 oz. bags. (Seasonal Sept - Nov)
Orange Juice
Our Orange Juice is from the highest quality oranges. It is re-constituted for freshness, bottled in half gallon and quart glass bottles and delivered cold and ready to drink.
Apple Juice and Cider
Talbott's Mountain Gold Premium Apple Juice and Apple Cider are a unique blend of three different quality apples from the Colorado Mountains, carefully cleaned and pressed. Blending sweet and tart apples together creates a taste that is refreshing, zesty and bold.
Apple Cider is seasonal – available late September - December.