Colorado Cold Brew ™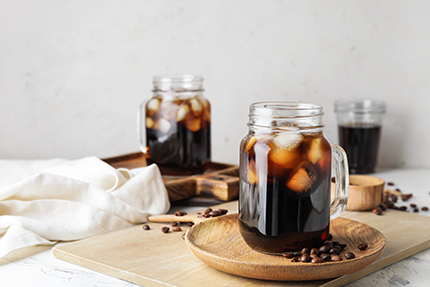 We're all about fresh! We use fresh roasted and ground coffee, and pure Rocky Mountain water for our Colorado Cold Brew ™ Coffee. It's a slow process to let the beans cold brew for 24 hours or more, and it requires twice the amount of ground coffee than hot brewed coffee needs. But on a hot day, the taste is cool, smooth and rich, with roasted nuts and notes of cocoa, in a medium body blend.
It is a slow process but worth the taste. Our proprietary cold brew process creates a smooth pure coffee taste without the acid aftertaste. We hand craft every small batch for consistent perfection.
No one knows more about milk and cream than Longmont Dairy. So you can count on our Colorado Cold Brew with milk drinks to be made with perfection.
Try our New Orleans Latte Cold Brew, New Orleans Chicory blend influenced by the French since the early 1800's.
Mocha Latte Cold Brew, the perfect balance of coffee, cocoa, milk and sugar.
French Vanilla Latte Cold Brew, LDF milk Colorado Cold brew and natural vanilla with sugar.
Read more about Silver Canyon Coffee below.
You can create your own coffee drinks, combining them with our fresh and delicious milk and creamers, in the convenience of your home. Pints.